News
Email A Friend
More News
December 14, 2018
Janek Hunt, Brother-In-Law of Dr. Munir Uwaydah, Arrested In Chicago. Felony Complaint Filed Against Hunt By Riverside County District Attorney.
December 13, 2018
California Division of Workers' Compensation Posts Draft Physician Reporting and Utilization Review Regulatory Amendments to Online Forum for Public Comment
December 13, 2018
Workers' Compensation Premiums Are Falling In California, According To WCIRB Report
December 12, 2018
State of California Office of Self-Insurance Plans Posts Proposed Regulations and Public Meeting Announcement
California DWC Suspends Christopher King, Marisa Schermbeck Nelson And 19 More From Participating As Providers In The Workers' Compensation System. Total Number Of Suspended Providers For 2017 Is Now 73.


By Lonce Lamonte - November 7, 2017

The Division of Workers' Compensation (DWC) has suspended 21 more medical providers from participating in California's workers' compensation system, bringing the total number of providers suspended this year to 73.

DWC Administrative Director George Parisotto issued Orders of Suspension against the following providers:
Christopher King of Beverly Hills. He was the owner of medical-billing and medical-management companies with his wife, Tanya. They were the masterminds in a $40 million conspiracy to commit medical insurance fraud along with over two dozen doctors, pharmacists and business owners.

The Kings focused heavily on workers' compensation payers by charging for unnecessary urine tests and mass produceding compound medications. Christopher and Tanya King are now embroiled in a divorce with a custody battle over their minor children.

Christopher has pled guilty and is scheduled to be sentenced in court in one week on November 14th 2017. Tanya has pled not-guilty and is represented by defense attorney Richard Moss.

More than 13,000 patients and at least 27 insurance carriers were victims in the scheme

manifested by the Kings. Christopher King

pled guilty in Orange County Superior Court on April 26

to two felony counts of conspiracy to commit medical insurance fraud and felony insurance fraud. Co-owner with his wife of Monarch Medical Group, King Medical Management and One Source Laboratories, it was mostly his wife who allegedly recruited doctors and pharmacists to prescribe unnecessary treatments for patients with workers' compensation insurance.
Marisa Schermbeck Nelson, who presently lives in Torrance but is from south Toledo, Ohio, pled guilty on July 26 in Los Angeles County Superior Court for her involvement in a fraudulent $150 million workers' compensation insurance billing and capping conspiracy with orthopedic surgeon Munir Uwaydah. However, Marisa is now a prosecution informant and a witness in this Criminal Organization Munir Uwaydah case in downtown Los Angeles. If she proffers well to the LA District Attorney and fulfills her plea deal agreement involving her mandatory truthful testimony where and when required, she has the opportunity to change her plea to not-guilty in one year from July 26th 2017.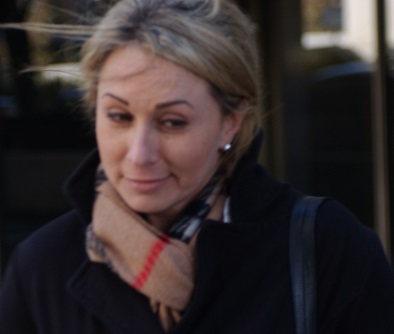 Marisa Schermbeck Nelson leaving Los Angeles Superior Court on December 2nd 2016. photo by Lonce Lamonte, all rights reserved

AB 1244 (Gray and Daly), which went into effect January 1, introduced new changes to the workers' compensation system and requires the division's Administrative Director to suspend any medical provider, physician or practitioner from participating in the workers' compensation system in cases in which one or more of the following is true:
The provider has been convicted of a felony or misdemeanor involving fraud or abuse of the Medi-Cal or Medicare programs or the workers' compensation system, fraud or abuse of a patient, or related types of misconduct;
The provider has been suspended due to fraud or abuse from the Medicare or Medicaid (including Medi-Cal) programs; or
The provider's license or certificate to provide health care has been surrendered or revoked.
The Department of Industrial Relation's (DIR's) fraud prevention efforts are posted online, including frequently updated lists for physicians, practitioners, and providers who have been issued notices of suspension, and those who have been suspended pursuant to Labor Code §139.21(a)(1). The department recently added a new web page with information on lien consolidations and the Special Adjudication Unit.
lonce@adjustercom.com, Lonce Lamonte, journalist.