News
Email A Friend
More News
January 17, 2020
Tristar Insurance Group Acquires Aspen Risk Management. Now Tristar Says It's Back In The Loss Control And Safety Field.
January 16, 2020
iUnlimited Investigations, Inc. Announces iForward Scholarship Fund Initiative
January 9, 2020
California Division of Workers' Compensation Pharmacy and Therapeutics Committee Meeting Scheduled for January 22, 2020 in Oakland
January 2, 2020
Mileage Rate for Medical and Medical-Legal Travel Expenses Decreases Effective January 1, 2020
Sim Hoffman, M.D. On Calendar For Friday, February 26th 2016 In Orange County Superior Court. Defense has one last shot at a 995 motion before trial.


By Lonce LaMon - February 22, 2016

The next Sim Hoffman, M.D., Thomas Heric, M.D. hearing

is scheduled to be heard this Friday, February 26th 2016 in Orange County Superior Court in Santa Ana, California. This case is pending trial on a 103 count Information for Workers' Compensation billing fraud after the Honorable Margaret Anderson held the defendants accountable to face the charges after a full month's preliminary hearing, which took place in September 2015 in Westminster.

Richard Moss, Hoffman's defense attorney, has been quiet since even before this case was continued from January 15th 2016 to this coming Friday. This writer suspects Moss is writing a masterpiece 995 motion designed to dismiss the information based upon a well-crafted sophistical argument of either a conflict of interest, insufficient evidence, or perhaps again Johnson error (if he can find any real or contrived). Or maybe all of the aforementioned.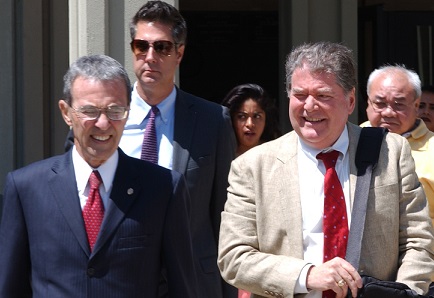 Richard Moss, far left, and co-defense counsel, Bill Fleming (behind him), are shown here with Sim Hoffman, M.D. (red tie) on September 2, 2015 leaving the courthouse in Westminster, California on the second day of the Preliminary Hearing.
photo copyright Lonce LaMon, all rights reserved
In December of 2013, Richard Moss succeeded in having the previous indicted case with 884 counts dismissed based upon "Johnson error". This is named case law about a prosecutor leaving out "exculpatory evidence" when presenting evidence to a grand jury. It was alleged that deputy district attorney, Shaddi Kamiabipour, did not reveal the fact that Sim Hoffman, M.D. paid back thousands of dollars to State Compensation Insurance Fund (SCIF) when SCIF demanded reimbursement. It's still an issue which could easily be further argued, in this writer's opinion, but based basically around the fact the reimbursement was not brought up to the grand jury, Moss won the motion with Superior Court Judge William Froeberg. The case got thrown out, to this writer's overwhelming shock.
Back in those days, Moss was talkative. But now he's not talking. He's not answering my messages. So, hopefully it will be revealed what he's up to this coming Friday. He has the opportunity to file a 995 motion and/or demurrers before trial starts during this continuing arraignment on the 6th amended version of the now 103 count information. What's he up to?
I find it interesting to observe, as well as amusing, when a crook becomes indignant as a protégé adopts his exact behaviors and does to him what he's been doing to everyone else. A case of "do what I say not what I do." But one learns better the actions of character of one's mentor-in-crime.
In 2010, I remember a civil case filed in Los Angeles in which the infamous Dr. Munir Uwaydah was suing his former employee, Marisa Schermbeck Nelson, who had handled much of his money, bookkeeping, and banking. Uwaydah was represented by the also infamous Benjamin Gluck and another Bird firm attorney, a Mark Masters. In his complaint he alleged Marisa and her husband, Peter Nelson, charged to Uwaydah's company (Frontline Medical's) credit card, her and Peter Nelson's wedding, the college tuition of one of Nelson's children, the use of hotels and spas during personal vacations, jewelry, home furnishings and remodeling, and medical care and food supplies for personal pets. Frontline also believed that Schermbeck, Schermbeck Management, and Peter Nelson conspired to steal money from Frontline to pay for part of a house purchased by Schermbeck and Nelson. And there was more corruption involving the IRS. This activity took place during 2007, coincidentally during the same era that Louis Santillan was allegedly misrepresenting his commissions and stealing from Sim Hoffman.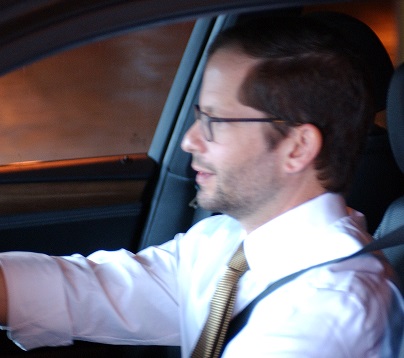 Fraud doctor defense attorney Benjamin Gluck leaves the Orange County Superior Court parking lot in his vehicle on December 11th 2015. One prosecutor told an insurance carrier investigator, "If I contact a medical group and Benjamin Gluck calls me back, I know I've got the right place."
photo by Lonce LaMon, all rights reserved
Beverly Mitchell, who was Hoffman's office manager until 2009, was monitoring Louis Santillan's commissions reports. According to her testimony during the preliminary hearing, Louis Santillan was misrepresenting his commissions. He was deleting and changing notes in the computer; he was charging another commission upon accounts that had already been collected, along with other alleged conflagrations. One difficulty is that Beverly Mitchell's testimony has been so perjurious that nothing she testifies can be relied upon. However this doesn't matter because it's obvious from the correspondence that Hoffman believed Santillan was stealing from him whether it was real or imagined. He was beginning the painfully long term process of getting rid of Santillan, an action which could painfully backfire. And did.
Santillan had since 2004 learned that Dr. Hoffman was not performing single fiber EMGs and did not perform 3 dimensional reconstruction MRIs. Hoffman didn't even have the software to create 3-D MRIs and actually admitted this fact to Santillan. Any billing with single fiber EMGs or 3-D reconstructive MRIs on it was bogus. But Santillan continued to collect on bills containing both in order to receive his commissions. He was part and parcel of Sim Hoffman, M.D.'s fraud game.
So, Santillan knew way too much for Hoffman's comfort. How do you get rid of someone who has prodigious deleterious information about you? Dr. Hoffman decided, as is expressed in the correspondence presented in discovery in this case, to transition Santillan into work as an independent contractor. This is pretty solid speculation based on the exhibits and the testimony. This way he could transition Santillan out gradually by giving him less and less collections work.
He brought in Martin Renetzky's collections firm
(ARK Collections) and began vending out volumes of billings to Renetzky.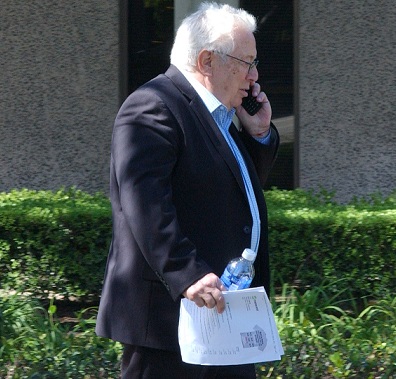 Martin Renetzky is shown here leaving the Westminster courthouse after testifying during the preliminary hearing on September 29th 2015.
photo by Lonce LaMon, all rights reserved

Martin Renetzky testified at the September 2015 preliminary hearing, and he knew almost nothing about the day-to-day operations of his own company. He was just a figure head (the owner with the money) and maybe a front man who was still around. All of the hands-on work was done by an associate. He therefore had few answers for the prosecutor, Shaddi Kamiabipour, and the defense attorneys, Richard Moss and Bill Fleming for Hoffman, and Robert Moest for Dr. Thomas Heric.
According to
Santillan's sulking, overbearing, and angry complaint letter
to Hoffman dated April 9, 2007, Martin Renetzky's firm got $65 million in collections while he only got $30 million. Hoffman was transitioning Santillan into a smaller case load, and on his way to making him an independent contractor. Santillan was recalcitrant. He clearly saw the writing on the wall. As an independent contractor, Hoffman could give him less and less work and then phase him out. But only a fool would have written his employer such an angry and insubordinate letter.
Hoffman was trying to avoid a wrongful termination lawsuit from Santillan, but he didn't pull it off. Santillan retaliated with a vengeance in response to being laid off and then offered his same position as an independent contractor. He wrote a couple of letters to Dr. Hoffman after his lay-off and initiation of a wrongful termination case. The arbitration of that case went to a full-hearing.
The first letter where Santillan made a demand to Hoffman for ~$150,000 to accept the lay-off and transition to independent contractor with the promise of no action for wrongful termination is nowhere to be found on the preliminary hearing exhibit list. This writer saw and read it on the projector screen during the preliminary hearing but now it is missing in action.
Louis Santillan leaves Orange County Superior Court in Westminster after testifying in the preliminary hearing of The People vs. Sim Hoffman, M.D. and Thomas Heric, M.D. on September 2nd 2015.
photo by Lonce LaMon, all rights reserved
But the second letter is copied here
and is full of threats of the nature of "do this or else". He tells Hoffman how he brought it to his attention that he was billing for services that his doctors were not performing. He brings up the State Compensation Insurance Fund (SCIF) Utilization Review (UR) doctor who claimed his charges were for services never performed and threatened to refer his bills to the SCIF fraud unit. Santillan accuses Hoffman together with Beverly Mitchell of retaliating against him. He goes on, even advising Hoffman of how he had advised him to reimburse the "millions" he had overbilled. He stated he did this during the time Hoffman was on probation for fraud.
Hoffman had not actually been on probation with the California Medical Board for fraud but for improper record keeping. Bill Fleming, Hoffman's co-defense counsel, cross-examined Santillan on the witness stand during the preliminary hearing. He got him to admit the untruth of Hoffman being on probation for fraud. Fleming pointed out the Administrative Law Judge cited Hoffman for improper record keeping, but not for fraud. Fleming also brought forward the untruth from the letter where it stated Dr. Patel was not licensed to read MRIs. Dr. Patel was licensed to read MRIs.
"As long as you were paid, you were never going to report it," Bill Fleming asserted to Santillan as he sat on the witness stand during the preliminary hearing. Santillan responded in the affirmative.
The threats in this December 12th 2007 letter were copious (in spite of the mistakes, misspellings, and typos). Louis Santillan was so guilty of fraud himself while he didn't think that to bring Hoffman down meant bringing himself down with him.
Santillan is like that snake who asks the swan to carry him across the river on his back. When the swan states that he cannot do it because the snake will bite him and drown him, the snake tells him he'd be a fool to do that as he would drown too. So the swan falls for it, carries him on his back, the snake bites him half-way across the river, and the snake and the swan both drown.
Santillan wound up basically losing in arbitration on his wrongful termination suit, was ordered to pay $40,000 in Hoffman's attorney's fees, and Hoffman eventually placed a lien on Santillan's house. Santillan eventually lost his house and even sold his truck. Self-destruction out of spite knew no moderation. As Bill Fleming pointed out during Santillan's preliminary hearing testimony, Santillan earned 1.8 million dollars from 2004 to 2007. That's an average of $450,000 a year.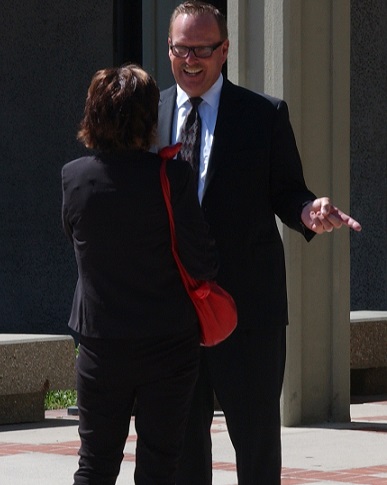 Beverly Mitchell got a dusting off from her lawyer, Marlon Stapleton, outside the front door of the courthouse in Westminster after being caught in numerous perjuries by Hoffman defense counsel, Bill Fleming, while up on the witness stand.
photo by Lonce LaMon, all rights reserved
Why Louis Santillan and Beverly Mitchell got use immunity from the prosecution this writer cannot completely fathom. Their frauds are limitless. But my best guess is that the prosecutor, Shaddi Kamiabipour, was so devastated by the dismissal of the 884 counts in December 2013 that she had to make a sacrifice. And it was a huge sacrifice, indeed. But she did her very best.
Prosecuting fraud is a daunting and overwhelming undertaking. So easy for people to criticize who have no clue of the enormity of the task.
Let's see what Moss has up his sleeve for this Friday. If his 995 motion or demurrers, or whatever else don't convince the judge, it will be down the yellowbrick road to trial.
It's not yet known in what court room and with what judge the hearing will happen this Friday, February 26th 2016, or if there will be a continuance again; but a follow-up to this writing is promised.
lonce@adjustercom.com , Lonce LaMon, journalist; copyright Lonce LaMon and adjustercom, all rights reserved.