What A Wrap! Thrown In Spectacular Style By Sedgwick In Downtown Los Angeles At Studio One.


By Lonce LaMon - April 29, 2013

The Sedgwick Wrap Party was more than a smash hit last Wednesday night when Sedgwick colleagues, clients, service providers, spouses, significant others, and friends gathered at The Studios on 5th Street in Downtown Los Angeles in Studio One.

This immense Film Studio had a stage with a live rock band, a half-pipe set-up with performing skateboarders and bikers, a juggling act, a fully hosted bar with high end premium everything, and food trucks with Oriental pork and beef dishes, gourmet hamburgers, fried chicken, and other great things to eat. It was a Hollywood-style event all the way, one put on with spectacular grandeur.

Darrell Brown, a veteran workers' compensation claims manager in Southern California, who was recently promoted to Chief Performance Officer based in Sedgwick's Long Beach offices, was impressed at how well Los Angeles hosted the RIMS conference. Prior to the conference, he had his doubts about the appropriateness of Downtown L.A. for RIMS.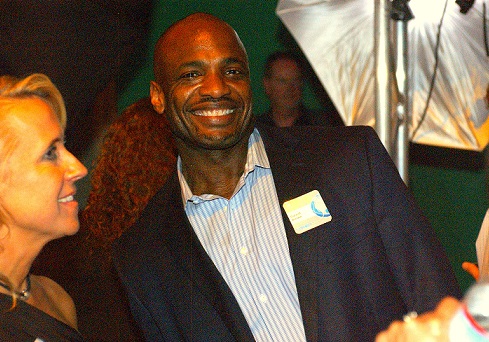 Darrell Brown, shown here at the Sedgwick Wrap Party, thought it was "a lot of fun". Copyright Lonce LaMon. All rights reserved.
"Prior to the start of the RIMS 2013 conference, I wasn't 100% sure Downtown Los Angeles would be able to successfully pull off RIMS especially given how spread out Los Angeles is. However, I think the Convention Center did a very nice job.
"The opening reception was excellent. I was able to attend some of the sessions and enjoyed them. I was also part of some very good meetings during the week. If you were lucky enough to stay downtown, the traffic issues were minimal, except for Sunday when there was the bike run.
"I was very proud of Los Angeles this week. We pulled it off. Lastly, I think the Sedgwick event on Wednesday was a lot of fun."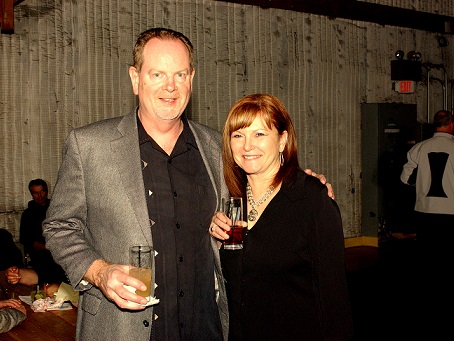 Terri Browne, Executive VP of Colleague Resources, enjoys the Wrap Party with her husband. Copyright Lonce LaMon. All rights reserved.
Sedgwick President, Dave North, attended the Wrap Party and for three days held his own Sedgwick Salon at the Los Angeles Athletic Club on 7th Street at Olive. It was a class happening on the third floor of the club. Meetings were held at the various tables throughout the day, and Social Media Director, Jonathan Mast, recorded podcasts in a studio set up in one of the corners.
Dave North was easy going with everyone and talked about workers' compensation. He unabashedly effused that the predictive modeling discussion is so tiring. "You have to change the behavior," he said, and that way the change in the behaviors will change the outcome.
Sedgwick has introduced their Performance 360 program. What it is according to Darrell Brown is a program "to improve our clients' results through enhanced audit, training, resource allocation and technology. We will continue to ensure the delivery of compliance areas, but with an increased focus on the outcomes of the claims.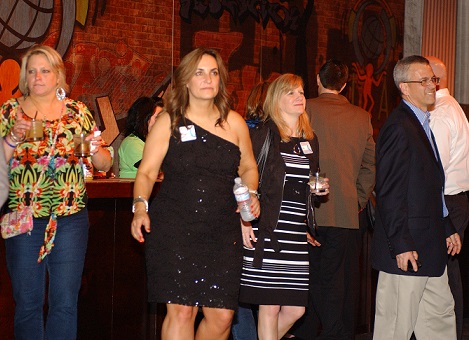 Kimberly George, SVP (center), Tracy Mock, VP (center-right), and Jonathan Mast, Social Media Director (right) all of Sedgwick, step towards the dance floor at Studio One. Copyright Lonce LaMon. All rights reserved.
"To achieve this, we are separating compliance from performance. Compliance will be audited based on the age of the file and will measure whether we are meeting customer, carrier, regulatory, and best practices requirements. Performance will be reviewed to determine if the file is actually moving to get the very best results in the different claim segments, including investigation, reserving, resolution, medical management, etc. Part of this initiative is a workload review component which will continually look at the examiner and team lead's workload to determine if there are tasks that can be automated, centralized or eliminated.
"We're very excited about this initiative as it benefits not only our clients and other partners, but our colleagues. Performance 360 was built based on feedback from our colleagues."
Kimberly George, Senior Vice President of Managed Care Practice and Client Services, attended the Wrap Party in a becoming and very tastefully selected black evening dress designed below one shoulder. Kimberly was recognized by Business Insurance magazine in late 2011 as one of their top 25 "Women To Watch" in insurance and risk management. She was honored in New York at a luncheon sponsored by the publication. Kimberly is based in Chicago.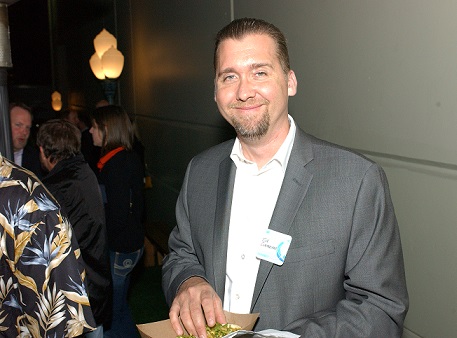 Eddy Canavan enjoys a bite off one of the food trucks at the Sedgwick Wrap Party on April 24th. Copyright Lonce LaMon. All rights reserved.
Another recognizable veteran claims supervisor and manager from the Orange and Riverside, California, Sedgwick claims offices who attended the RIMS convention and the Sedgwick Wrap Party is Eddy Canavan. Eddy is now working for Darrell Brown in the performance realm, now with the title of Director of National Technical Compliance. He is very happy with his career decisions, he expressed at Nick and Stef's Steakhouse in Downtown L.A. on Monday night, the night of the first day of the convention.
Sally Kaled is another California Sedgwick professional who says she missed the first days of the convention but made it in time for the Wrap Party. She is today Senior Vice President of Client Services. 10 years ago she was a Regional Claims Director based in Pasadena, California, and oversaw the Los Angeles Unified School District claims operation there. She has been with Sedgwick since 1998.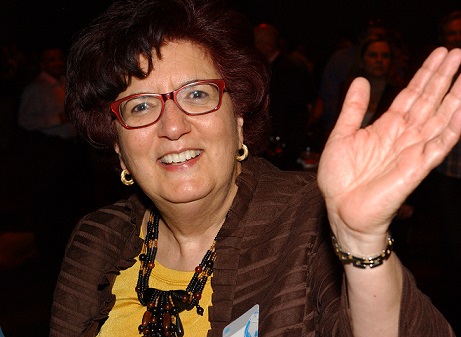 Sally Kaled gives a wave at the Sedgwick Wrap Party on Wednesday night, April 24th 2013. Copyright Lonce LaMon. All rights reserved.
As the evening progressed, more partiers moved to the dance floor. The rock band was a top performer and got everybody in a Bacchanalian frenzy when they played Journey's "Don't Stop Believing". Everybody seemed to work the room with its expansive high ceilings, and enjoy the food and spirits—which were offered in abundance.
Enjoy the photo gallery of the Sedgwick Wrap Party here:
Bike Performer, Band, Biker In Air, First On The Dance Floor 1, First On The Dance Floor 2, Juggler, Wendy Lanphere of ATB and sister Misti, Jacquetta Bratton and Kimberly George, The Line Dancers, Catherine Bennett Greeting Her Guests, Dave North 1, Dave North 2, Keith Higdon and Cloud Geissinger, The Studio
Photos are copyrighted © by Lonce LaMon dba adjustercom. All rights are reserved. For permission to use photos, please email lonce@adjuster.com with requests for purchase.