Features
Email A Friend
More Features
August 9, 2021
The Property Claims Investigation
July 29, 2021
The Examination Under Oath as a Tool to Defeat Insurance Fraud
July 28, 2021
Liability Insurance Is
January 16, 2021
Insurance HR Manager Who Participated in U.S. Capitol's Duck Dynasty Insurrection Loses His Job
Claim Adjusters, Their Motorcycles, Accidents and Claims


By Jorge Alexandria - January 2, 2017

There are workers' compensation claims professionals who admire, respect, and ride motorcycles.

Some ride for fun, like the late founder, president and chief executive officer of WorkCompCentral, David J. DePaolo. He rode a 250 Honda that he nicknamed "The Sewing Machine".

Others use motorcycles for their everyday commute to and from the office such as Ken Wagner, a veteran senior claims examiner at AmTrust, who owns a Victory Hammer. Riding away for him releases the stresses of the day with the twist of a throttle.

Chris Parra, a claims assistant at the same carrier, sports a Harley Soft Tail Slim. Chris swears that commuting to work on a motorcycle has a positive effect on his enthusiasm and ability to tackle claim tasks. To Chris, his motorcycle is the modern representation of the horse and it carries with it the excitement that riding a horse did in the days of frontier life back in the day.

Many of you four-wheel suburbanites think riding a motorcycle is this dangerous, careless action. I am of the mindset it is rational and objective. Driving a motorcycle is not about trying to pull off something sensational. Riders would not climb the saddle if there were no chance of making it from point A to point B. Motorcyclists make a rational decision. They know their machines, the DMV has licensed them, they study the inroads and backways, (and California has one of the best and safest freeway and street systems in the world), and they constantly service their engines because any tiny mechanical malfunction or a mistake in agility or maneuverability is potentially lethal.

Riding a motorcycle makes you alert and uses all of you. You feel the elements, you shift your body to steer, your eyes scan the road ahead, and all of your limbs are used for controls. You can't put it on cruise and lean the seat back as you would in your car. Riding takes all of your attention.It is a mental release that for many is like a spiritual experience. Just ask Chris Parra.

Still, motorcyclists have to be vigilant, because you can't foresee everything that can go wrong. Failure and accidents generally don't come about because of one thing. More often it's a collection of little things.

For instance, David DePaolo, who was mentioned earlier, was killed on a leisurely Sunday in a crash in the Santa Monica Mountains near Malibu, California. For reasons that remain unknown to the California Highway Patrol, his motorcycle veered right onto the road's shoulder to the south, (east on Yerba Buena Road near Vedder Motorway), hitting a dirt embankment shortly after 4 PM on a clear and sunny July 17, 2016. Many suspect he swerved to avoid wildlife that had crossed the road. Agility and fatigue may have been contributing factors. He was 56 years old.

As a motorcycle rider myself, David J. DePaolo's death gained resonance and punctuated my thoughts. David had an exceptional, quick witted writing ability and I always enjoyed reading his editorial columns. Still, I never imagined an accident could happen to me and for a good 20 years nothing ever did-- until it did.

I was at the wrong place at the wrong time. I can close my eyes and see it all today. On All Hallows Eve 2016, on my wedding anniversary, I was home bound on my BMW R1150RT (police motorcycle). I came to a complete stop. I was the first person at a red light, when the twenty-something-year-old woman behind me looked up after texting on her iPhone, mistakenly saw a green light, and plowed her 5,300 pound vehicle into my 614 pound motorcycle.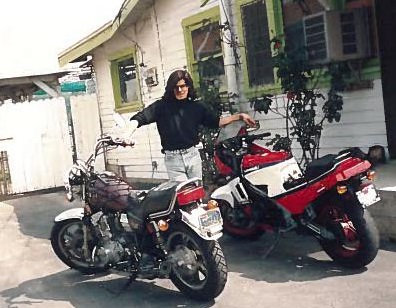 A younger, longer-haired Jorge stands with his two motorcycles in this undated photo. copyright Jorge Alexandria, all rights reserved


Had I been lane splitting I probably would have been free from harm. Instead, I was ejected, catapulted into the air, did a front somersault in the air before slamming into the ground and onto oncoming traffic. My BMW bounced off then slid across three lanes and into the intersection near the center divider. I just remember being woken up on the side of the road looking up at the sky, immobile, and wondering why I was in so much pain. I survived the horror of the crash but I was badly injured. I am luckier still to be able to walk. No one ever would have thought you could put a price on walking until it's taken away from you. My motorcycle on the other hand was a total loss.
I have yet to figure out how anyone, on a clear and sunny day, could fail to see such a behemoth of an ex-CHP bike with its menacing "look-at-me I could issue you a ticket" looks. I am of the firm opinion, however, that because it was a former police bike, and a BMW to boot, it was engineered safer than any other motorcycle on the market. The crash bars, in particular the rear bar which is attached to the frame, saved me from certain demise. This holiday season I am grateful for life, family, strength and athletic ability. You never know when it is going to be taken from you. I got a real sense that the reaper passed too near. In fact, it challenged my senses to the point that I tried to find meaning in it much like the thing that made the very first disciples drop their nets and walk away from everything they knew or the thing that caused Mary Magdalene to return to the tomb and then announce the resurrection of Christ.
Now that I've looked death in the face, I have new goals. One of them is to deal with insurance. If you are a policy-holder, the Automobile Club of Southern California (aka AAA) is a great insurance. They mitigate exposure at every turn. When you are the plaintiff, however, the devil that comes calling doesn't look like a snake in the grass. He or she is a property or liability adjuster dressed in a nice suit telling you whatever you need to hear. That is until they deny you the right to recover the cost of accessories you added to the motorcycle after purchase. Many riders equip their motorcycles with expensive chrome accessories or custom exhausts and wish to recover both the cost of add-ons, as well as, the cost of the motorcycle. Not going to happen. At least not without a fight.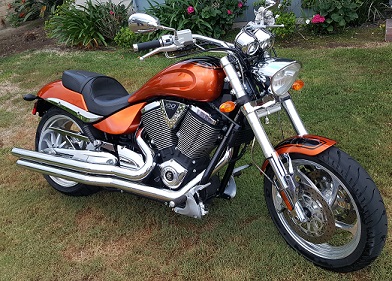 Ken Wagner's Victory Hammer. Ken is a veteran senior claims examiner at AMTrust. photo copyright Jorge Alexandria; all rights reserved


They refuse to pay Blue Book value for your property and instead use something called market value, which places a lesser value on your property. Also, the hard injuries become soft tissue injuries to the liability adjuster and just not as severe enough to warrant the kind of pain and suffering that comes from being traumatized and thrown into a solid object such as the ground at a pretty good rate of speed. That is why I think that it is sometimes wise to be represented by counsel and to get the benefit of that experience even when liability is clear.
When the motorcyclist (plaintiff) files a lawsuit, he has the burden of proof to show the motorist (defendant) breached his/her duty of care. That breach is an act of negligence. In some cases, the defendant can counter sue and claim that the plaintiff breached his duty of care to him/her. A judge determines from the evidence whether there was a breach of care and who breached it. If both parties breached their respective duties of care to each other, than the judge determines the comparative negligence of each party and awards the percentage of compensation he believes the evidence warrants. In my case, I was a sitting duck at the intersection and could not have contributed to the accident. Thus the motorist is 100 percent at fault. Finding an attorney, to represent me, however, turned out to be much harder than finding burden of proof.
Some lawyers I just couldn't feel comfortable with as I didn't get the impression he or she could bring resolution to the claim. If you meet one who is a good listener, understands the issues, and is in command of how the law applies, retain him. If your initial interview, on the other hand, can't be scheduled promptly, it means that attorney's caseload is rather heavy, and he may lack the resources to take on your case. Last, attorney fees are based on a portion of the amount you recover and cost, so you won't be facing a retainer fee. As such, ask about estimated cost, such as court reporter, copying and expert witness fees. Also, don't be afraid to negotiate attorney fees in the handling of your personal injury case. Usually, a personal injury attorney takes a handsome chunk of your winning outcome- typically 33% to 40%. If you have done much of the work the lawyer would normally do, he may be willing to accept a lower percentage contingency fee – say 22%. Be sure to bring all your documents to your initial meeting with the lawyer and show the lawyer the organized file you have put together. If you emphasize how much work the lawyer's office will have been relieved of because of your efforts, the lawyer may agree to some kind of reduced fee arrangement. It's your job to show them that your work was useful and that the case is in good shape.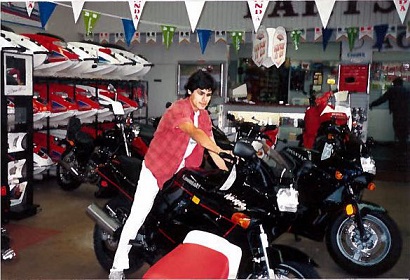 A much younger Jorge in a motorcycle shop, trying on a bike for size. (Undated photo) copyright Jorge Alexandria, all rights reserved
Although I may never ride a motorcycle again, these things will reduce the risk involved in taking to the road:
Helmets: The National Highway Traffic Safety Administration estimates that helmets reduce the likelihood of a crash fatality by 37 percent and brain injury by 67 percent.
Clothing: Dress for the slide, not the ride. Long-sleeved shirt or jacket, long trousers, and full-fingered gloves are required. Garments made from leather or abrasion-resistant fabric provide a high level of protection. When a motorcyclist goes down, his motorcycle often drags him along the pavement causing road rash. It is like sliding into second base only 50 times worse.

Pants should provide the same protection against abrasion as jackets. Remember that when a rider is knocked off his bike the only thing between the rider and the engine block is your jeans and that the average temperature of the engine block is 230 degrees.
Gloves are intended to protect the rider's fingers in the event of a crash. The glove should be made for motorcycle use. Gloves that are not for motorcycle use provide less grip and protection and may come off.

Garment visibility: A brightly colored outer, upper garment during the day and a reflective upper garment are required during the night. Vests made with high-visibility colors and retro reflective materials are best. Vests can be worn over jackets to increase the chance of being seen and allow drivers to better judge the speed and position of riders, especially in adverse conditions of dark and wet.
Foot Protection: Over-the-ankle footwear is required. Footwear should be made of sturdy leather and have a good low-heeled, oil-resistant sole to reduce slipping hazards. Army boots meet the requirement.
Happy riding folks!

Jorge Alexandría is a former junior level U.S. Government official (Labor Dept.) and an Army veteran who received his B.A. in Political Science from Cal State Los Angeles. He also graduated from Cal Poly Pomona with a Master's Degree in Public Administration. He has more than 20 years of experience in claims handling, supervision, and risk management. He can be reached at Riskletter@mail.com. Any views and knowledge expressed in this article belong to Jorge Alexandria alone and do not represent any other organization or person.
Published by adjustercom and Lonce LaMon lonce@adjustercom.com, all rights reserved.